Looking for the Red Frog Rum Bar menu for Carnival Panorama? Here's the full bar menu with drink prices.
Red Frog Rum Bar is Carnival's rum-themed bar located on the Lido deck (Deck 10 on the Panorama) right by the pool.
In addition to rum and rum cocktails, Red Frog also serves ThirstyFrog beer on draft (brewed right on the ship!), bottles of imported beer, spiked lemonade, and a variety of other mixed drinks. You can also order "Zero-Proof" mocktails, sodas, bottled water, and refreshing coconut water at this location.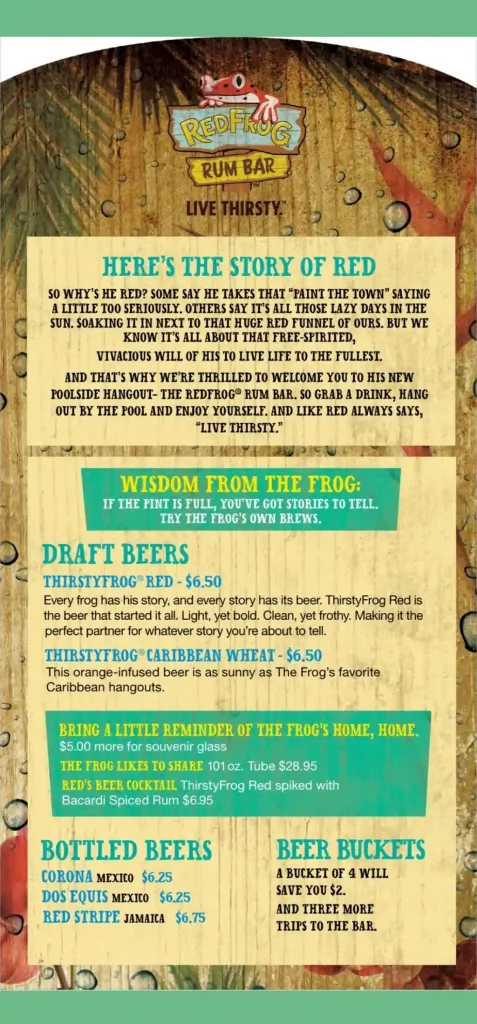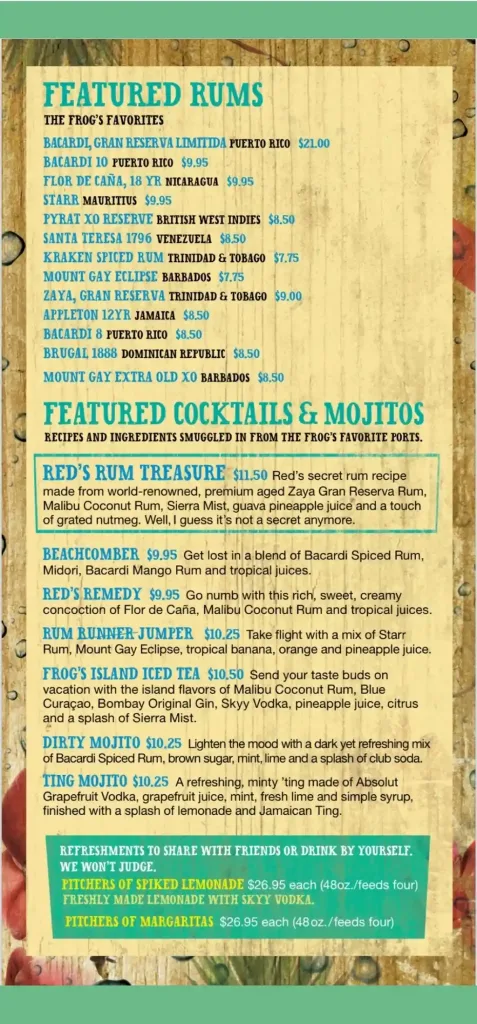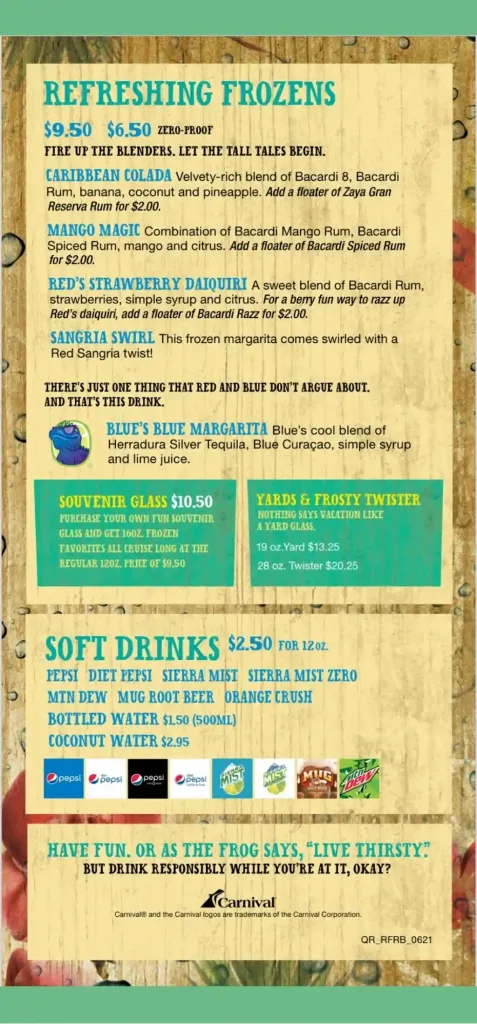 How much are drinks at Red Frog Rum Bar on Carnival Panorama?
If you purchased the Cheers! drink package, any of these drinks with a menu price of $20 and under are included in your package, with the exception of drinks in souvenir glasses. Guests with the Bottomless Bubbles drink package can get soda at the bar for free with the package.
Without a package, your on board account will be charged the menu price for each drink plus an 18% gratuity.
Learn more: Carnival Cruise Line Drink Packages: The Ultimate Guide
Draft beer – $6.50 each
ThirstyFrog Red
ThirstyFrog Caribbean Wheat
Bottled beer
Corona – $6.25
Dos Equis – $6.25
Red Stripe – $6.75
Buying a bucket of four beers will save you $2 on the per-bottle price.
Rum
Bacardi, Gran Reserva Limitida – $21.00
Bacardi 10 – $9.95
Flor de Caña, 18 yr – $9.95
Starr – $9.95
Pyrat XO Reserve – $8.50
Santa Teresa 1796 – $8.50
Kraken Spiced Rum – $7.75
Mount Gay Eclipse – $7.75
Zaya, Gran Reserva – $9.00
Appleton 12 yr – $8.50
Bacardi 8 – $8.50
Brugal 1888 – $8.50
Mount Gay Extra Old XO – $8.50
Cocktails
Red's Rum Treasure – $11.50 (Zaya Gran Reserva rum, Malibu coconut rum, Sierra Mist, guava pineapple juice, nutmeg)
Beachcomber – $9.95 (Bacardi spiced rum, Midori, Bacardi Mango rum, tropical juices)
Rum Runner Jumper – $10.25 (Starr rum, Mount Gay Eclipse, banana, orange, and pineapple juice)
Frog's Island Iced Tea – $10.50 (Malibu cocnut rum, Blue Curaçao, Bombay Original gin, Skyy vodka, pineapple juice, citrus, Sierra Mist)
Dirty Mojito – $10.25 (Bacardi spiced rum, brown sugar, mint, lime, club soda)
Ting Mojito – $10.25 (Absolut Grapefruit vodka, grapefruit juice, mint, fresh lime, symple syrup, lemonade, Ting)
Red's Beer Cocktail – $6.95 (Thirstyfrog Red beer, Bacardi spiced rum)
Pitcher of spiked lemonade – $26.95/48 oz (serves four)
Pitcher of margaritas – $26.95/48 oz (serves four)
Frozen drinks – 12 oz, $9.50 each ($6.50 for Zero-Proof mocktails)
Caribbean Colada (Bacardi 8, Bacardi rum, banana, coconut, pineapple)
Mango Magic (Bacardi Mango rum, Bacardi spiced rum, mango, citrus)
Red's Strawberry Daiquiri (Bacardi rum, strawberries, simple syrup, citrus)
Sangria Swirl (frozen margarita with a red sangria twist)
Blue's Blue Margarita (Herradura Silver tequila, Blue Curaçao, Simple syrup, lime juice) Borrowed from the BlueIguana Tequila Bar!
Tip: It's not on the menu, but you can order a Miami Vice at Red Frog Rum Bar for a refreshing mix of half piña colada and half strawberry daiquiri. Yum!
Souvenir and Novelty Glasses
Souvenir glass – $10.50 (buy one and get 16 oz frozen drinks for the 12 oz price all cruise long)
19 oz Yard – $13.25
28 oz Twister – $20.25
Soft Drinks – 12 oz $2.50 each
Pepsi
Diet Pepsi
Sierra Mist
Sierra Mist Zero
Mountain Dew
Mug Root Beer
Orange Crush
Bottled Water – $1.50/500 ml
Coconut water – $2.95
You may also like: Which Cruise Lines Serve Coke Products vs Pepsi?
More resources for your Carnival Panorama cruise:
Latest posts by Carrie Ann
(see all)