One of the best parts of a Carnival cruise is trying all the fantastic food options. But you don't always have to leave your stateroom to have a meal or snack! Room service on Carnival is available around the clock.
I'll answer all your questions about Carnival's room service. Plus, I've included current menus and prices for any items that aren't complimentary. Bon appétit!
Is room service free on Carnival?
Although you might remember that in 2019 Carnival announced room service would no longer be free on their ships, outrage from cruisers caused the company to quickly change its mind.
Carnival currently offers several free room service options during the day, from 6 AM until 10 PM. The room service menu offers a selection of salads, sandwiches, and desserts that are always complimentary during this time.
They also offer a free continental breakfast, delivered to your room in the morning if you order before 3 AM.
Basic drinks (juice, coffee, hot tea, iced tea, hot chocolate, and milk) are also complimentary with your room service order.
Carnival also offers hot meals and snacks, as well as hot breakfast sandwiches in the morning, for a small additional fee.
How do you order room service on a Carnival cruise?
Ordering room service on a Carnival cruise is easy—just dial 8000 on your stateroom phone. You can access the room service menu before you call by scanning the room service menu QR code posted on the wall.
Tip: You'll need to connect to the onboard WiFi to scan the QR code, but there's no charge to use it for scanning codes, using the HUB app, or visiting carnival.com during your cruise.
Is Carnival's room service available 24/7?
Room service is always available on Carnival ships, except for disembarkation morning. However, from 10 PM until 6 AM, you can only order from the "A Little $ A Lot of Yummy" portion of the menu. This selection includes hot meals and snacks priced at $2-6.
Tip: Looking for a late-night snack but don't want to pay for room service? All Carnival ships have a 24-hour pizza joint on board—either Pizzeria del Capitano or Pizza Pirate.
Can you order soda or alcohol from room service on a Carnival cruise?
Carnival's room service menu does include a selection of sodas and beers you can add to your room service order, at regular bar prices (see an example of a bar menu with prices here).
Soft drink choices include Pepsi, Diet Pepsi, Pepsi Zero Sugar, Pepsi Caffeine Free, Sierra Mist, Sierra Mist Zero, Mug Root Beer, and Mountain Dew.
Beer choices include Bud Light, Miller Lite, Coors Light, Heineken, Corona, and Pilsner Urquell. You also have the option of ordering one of their ship-made craft beers like ThirstyFrog Caribbean Wheat, Parched Pig West Coast IPA, or Parched Pig Toasted Amber.
Soda and beer ordered via room service are not covered by Carnival's Bottomless Bubbles or CHEERS! drink packages.
You may also like: Which Cruise Lines Serve Coke Products vs Pepsi?
Want all the specifics on Carnival's room service menu, including prices? Here's the full menu, current as of the date of publication. Note that prices and selection are subject to change.
Salads
Garden salad with choice of dressing
Caesar salad with house-made dressing and shaved parmesan
Sandwiches*
Tuna salad
Roasted turkey
Ham and cheese
Turkey bacon, lettuce + tomato
Grilled American cheese
Grilled Reuben with corned beef and Swiss
*All sandwiches served with potato salad, coleslaw, potato chips, or pretzels. Your choice of white, whole wheat, rye, or gluten-free bread
Desserts
New York cheesecake
Assorted cookies
Chocolate cake
Totally awesome wings $5 (choice of honey BBQ, buffalo, garlic parmesan, teriyaki, or Caribbean jerk)
Chicken tenders $5 (crispy pan breaded chicken with BBQ or honey mustard sauce)
Spicy fried firecracker shrimp $6 (spiced shrimp, panko coated and fried, with chili ginger dip. Served with fries)
Killer chicken quesadilla $5 (grilled chipotle seasoned chicken, onions, peppers, Monterrey jack, pico de gallo, guacamole)
Authentic Philly cheesesteak $5 (frizzled steak, melted cheese, grilled onions on a hoagie. Served with fries)
Pan pizza $5 (hand-stretched dough, baked to order. Choice of cheese, pepperoni, or ham + pineapple)
Side of fries $2
Sweet potato fries $2.50
Old fashioned banana split $4
How do you order room service for continental breakfast on Carnival?
You can order a free continental breakfast delivered to your room by filling out a breakfast hangtag and hanging it outside your door prior to 3 AM.
There should be a stack of hangtags in your stateroom (they're usually hanging on the wall), but your room steward can get you more if you run out.
You can choose the time you'd like your breakfast delivered in half-hour blocks, from 5 AM until 10 AM. Complimentary options include:
Fruit and cereal
Banana
Melon
Frosted Flakes
Froot Loops
Corn Flakes
Lucky Charms
Cinnamon Toast Crunch
Cheerios
Baked goods
Danish
White toast
Wheat toast
Gluten-free toast
Muffin
Croissant
Bagel
Yogurt
Strawberry
Raspberry
Peach
Plain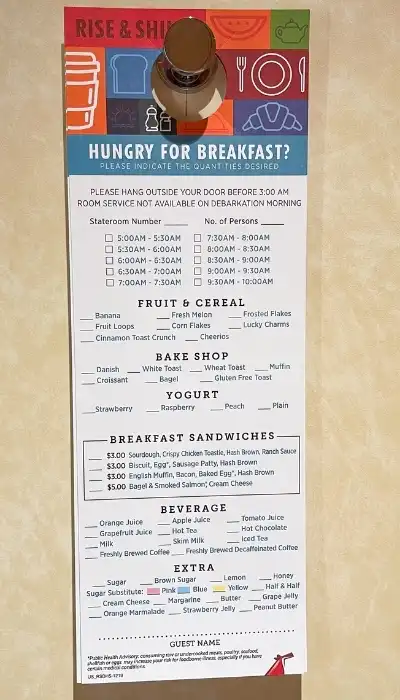 Beverages
Orange juice
Apple juice
Tomato juice
Grapefruit juice
Hot tea
Hot chocolate
Milk
Skim milk
Iced tea
Pot of coffee
Pot of decaf coffee
Extras
Sugar
Brown sugar
Lemon
Honey
Sugar substitute (pink, blue, or yellow)
Half & half cream
Cream cheese
Margarine
Butter
Grape jelly
Orange marmalade
Strawberry jelly
Peanut butter
Tip: If you need dairy-free milk for your coffee or cereal, I've had good luck writing it in on a blank spot on the hangtag even though it's not on the menu.
Hot breakfast sandwiches (additional fee applies)
Sourdough, crispy chicken toastie, hash brown, ranch $3
Biscuit, egg, sausage patty, hash brown $3
English muffin, bacon, baked egg, hash brown $3
Bagel with smoked salmon, cream cheese $5
Note that continental breakfast room service isn't available on disembarkation morning, but you can still get breakfast at a main dining room or at the buffet—they're usually open until about 9:30.
Do you need to tip for room service on Carnival?
Although Carnival does charge passengers automatic gratuities that are divided amongst the service staff, it's always a nice idea to give a small tip to the crewmember who delivers your room service meals.
Some crewmembers actually volunteer for room service duty (on top of their already long hours) specifically to make some extra money from tips!
You don't need to tip a lot—generally a dollar (or its equivalent) is just fine per meal that you have delivered.
Learn more: Tipping on a Cruise Ship: What You Need to Know About Cruise Gratuities
More resources for your Carnival cruise:
Do you have any other questions about room service on Carnival? Let me know in the comments below!
Latest posts by Carrie Ann
(see all)