Choosing a balcony stateroom on a cruise is a popular option for many cruisers. With the added square footage of a balcony, plus the private outdoor space to relax away from the crowds, it's no wonder that many cruise vacationers spend the extra cash to upgrade to one of these cabins.
But on one cruise line, picking a balcony stateroom means you have the ability to add some extra luxury to your voyage.
Do you love ordering room service on a cruise? Well, Princess Cruises' Ultimate Balcony Dining, available for balcony, mini-suite and full-suite guests, takes the idea of room service to a whole new level.
Mr. SBC and I were able to partake in this experience for dinner during our Panama Canal cruise. We thoroughly enjoyed both the meal and the personal service (two dedicated wait staff, just for us!) on the comfort of our own balcony.
Disclaimer: I may receive a small commission when you make a purchase from a link on this site, at no added charge to you. I was not sponsored by any companies I mention in this article. I paid for and personally used all products and services I recommend, and the opinions expressed are entirely my own.
What is Princess' Ultimate Balcony Dining?
Ultimate Balcony Dining on Princess Cruises is a luxury room service experience enjoyed on your balcony. Breakfast and dinner are offered with elevated cuisine and dedicated service.
Princess' Balcony Breakfast includes Champagne, fresh fruit and pastries, smoked salmon, and quiche.
The romantic candlelit dinner features cocktails, fresh flowers, Champagne, and an indulgent four-course meal presented by your own dedicated service staff.
What's on the Ultimate Balcony Dining menu?
Breakfast menu
The Ultimate Balcony Breakfast menu includes specialty pastries, fresh fruits, quiche, smoked salmon and assorted breakfast treats. You'll also be served a half-bottle of chilled sparkling wine, coffee, and juice.
Dinner menu
Of course, menus can always change. But for the last several years, Princess' Ultimate Balcony Dinner options have included a choice of lobster, steak, or surf-and-turf. The starter and salad are the same regardless of your main course choice.
Before your starter arrives, you'll have time to enjoy your Champagne or cocktail along with some canapés.
Then you'll start with a Pacific blue crab cake baked in a puff pastry crown, finished with thyme-infused tomato chutney and whole grain mustard cream. Next is the salad, mesclun field greens with marinated chèvre, pear, walnuts, and an aged balsamic vinaigrette.
The main course choices are:
Broiled tail of cold-water lobster, drawn lemon butter and vegetable bouquet
Grilled filet of beef tenderloin Diane, with Château potatoes, vegetable bouquet and mushroom demi-glace
Lobster and steak with Rissole potatoes, vegetable bouquet, and a duo of sauces
Dessert is the Quartet Mousseline: dark, swiss, white and milk chocolate mousse in a chocolate shell with fresh raspberries and raspberry coulis. If you're able to save room for it, it's fantastic.
We were also treated to a plate of assorted chocolates, which we saved to enjoy throughout the rest of our cruise.
Can you make substitutions to the Ultimate Balcony Dining menus?
Yes. if you have dietary restrictions, let the room service representative know when you're making your reservation.
Just not a fan of something on the menu? You can request a substitution as well. This includes anything you might like on the dining room menu.
If Champagne isn't your favorite, you can request to swap it for a bottle of wine of equivalent value.
Service during the meal
I'll admit, I was a little worried about what the service would be like during our Ultimate Balcony Dinner. I knew we'd have two dedicated servers, but our balcony wasn't very big.
Would the servers just stand by the railing while we ate? Awkward. Or would they wait in the room, occasionally peering out at us to see if we needed something?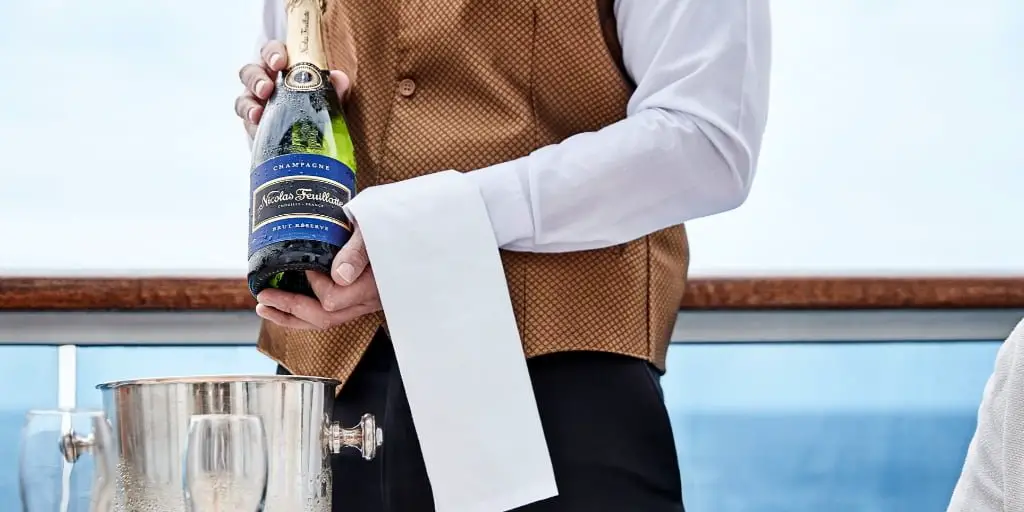 Thankfully, they did neither of those things. Our servers showed up about fifteen minutes before our reserved time, and set up a table on our balcony. (I was also worried if we were going to have to eat on our tiny balcony table, but they brought one in.)
The crisp linens, flameless candles and a vase of fresh flowers (which adorned our coffee table later) set a romantic mood.
During our dinner, which lasted a couple of hours, the servers disappeared and magically reappeared right when we needed them. How did they know when to clear our plates or refill our water when they couldn't see us? I have no idea. But every time we needed something, one of them showed right up.
Booking an Ultimate Balcony Breakfast or Dinner
Every ship in Princess' fleet offers Ultimate Balcony Dining for both breakfast and dinner.
You can pre-pay for your meal online as an add-on item in Princess' Cruise Personalizer (access to the cruise personalizer is only available to booked guests).
Breakfast or dinner can also be reserved by calling room service from your stateroom phone. Your meal will be charged to your on board account.
If you haven't reserved a specific day and time for your meal before you sail, be sure to call room service as soon as you can to reserve the spot you want. There are only a limited number of reservations available for Ultimate Balcony Dining. Our servers on board told me that they only do four dinners per night.
How much is Ultimate Balcony Dining on Princess?
Ultimate Balcony Dining costs $45 for two people for breakfast, and $100 for two people for dinner. You can also order breakfast or dinner for four or six (or any even number, as long as you have enough room). However, you can't place an order for odd numbers, like one person or three.
Ultimate Balcony Dining: Is it worth the money?
In my opinion, Ultimate Balcony Dining is absolutely worth the money for dinner. With the intimate experience and private service it offers, I actually think it's a bargain! At $50 per person, it doesn't cost much more than a similar dinner at one of Princess' fine dining specialty restaurants. The quality of the ingredients and presentation is on par with their Crown Grill steakhouse, if not even more sumptuous!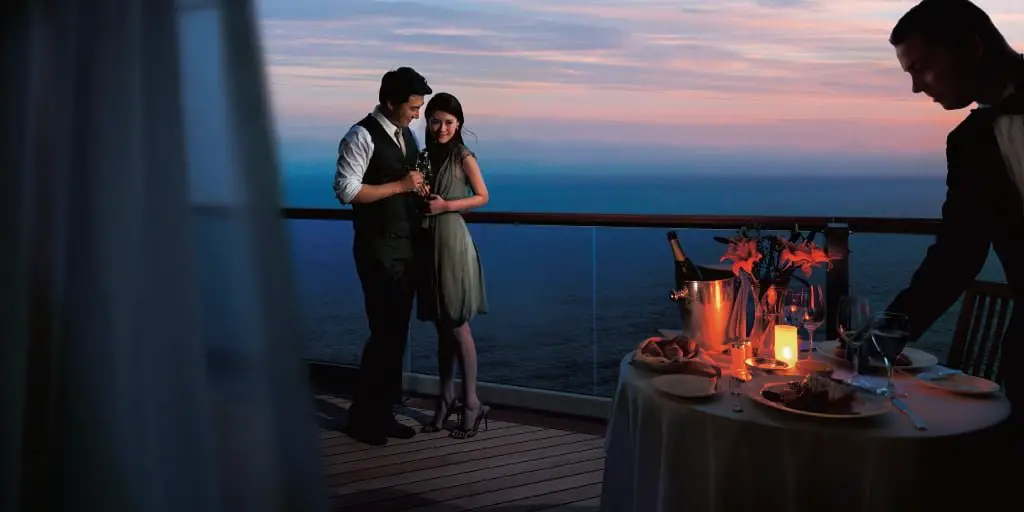 Plus, you get a vase of fresh flowers to decorate your room, and an 8″ x 10″ professional photograph as a memento. Individual photo prints on board Princess ships usually cost $25 each.
We loved it so much that we were all set to do it again on our Baltic cruise, but the weather was too chilly to dine alfresco (tip: if you ever go to St. Petersburg in July, take a jacket!)
If you've already made a reservation and the weather doesn't cooperate, the staff can set up your table inside. They'll place it just in front of the balcony door so you can still enjoy the view.
Ultimate Balcony Dinner gets an enthusiastic thumbs-up from me, and I recommend it for anyone planning a romantic cruise, for a special occasion, or just to enjoy your balcony even more.
The breakfast, although I haven't tried it, just doesn't seem worth it. The staff sets up your table and clears it away at the end, but doesn't provide you with any other service during the meal.
The sparkling wine is a nice addition to the breakfast (mimosas, anyone?), but if you have a beverage package it's not really a perk that you need.
My advice? Either go to the main dining room for a full-service breakfast, or order from Princess' complimentary room service. If you want that mimosa without having to leave your room, you can carry on one bottle of Champagne per person and chill it in the fridge. Just order extra OJ on your breakfast card!
---
Have you tried Ultimate Balcony Dining on Princess? Or are you considering it? Let me know in the comments below!
If you liked this post, I'd love it if you'd share it on your social media channels. It really helps my blog to grow so I can keep bringing you free cruise tips, ideas, and reviews. Thanks so much for reading!
You can follow me on social media on Pinterest, Facebook, Instagram, and Twitter.
Latest posts by Carrie Ann
(see all)