Although mainstream and premium cruise lines include meals, some drinks, and entertainment, they aren't truly all-inclusive cruises. If you want to pay once and not have to worry about spending another penny, I'll share the truth with you about which cruise lines are all-inclusive.
Do you ever feel nickel-and-dimed by the cruise lines? You pay for your cruise fare, plus the taxes and port fees. Then you have to add on the automatic gratuities.
But wait, what about the shore excursions? Extra. Beer, wine, cocktails? Extra. A glass of soda? Extra. It can start to add up fast!
You may have steered clear of the ultra-premium and luxury cruise lines, thinking that they're just too expensive. But if you're planning on doing a shore excursion in each port, and drinking more than just water and iced tea, some of the more inclusive lines can be a good option.
But which cruise lines are the most all-inclusive? I'll break down exactly what the major ultra-premium and luxury cruise lines include in your cruise fare, for even the lowest stateroom category!
(For this review, I'm focusing on ocean cruising on traditional cruise ships. I won't compare yacht cruises, river cruises, or private charters.)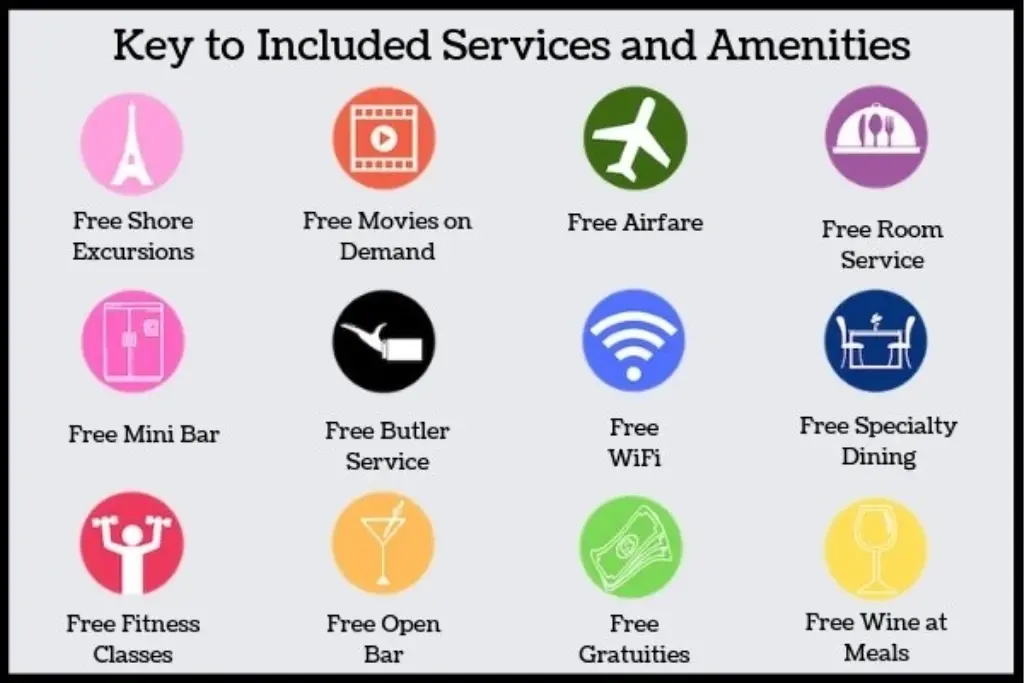 Ultra-Premium Cruise Lines
Ultra-premium cruise lines are the next step up in luxury from premium lines like Princess, Disney, Celebrity, or Holland America. They tend to offer more included amenities as well as a better staff-to-guest ratio.
Azamara

Azamara (formerly Azamara Club Cruises) is a relative newcomer to the world of cruising, having launched in 2007. Focusing on more immersive cruises, Azamara offers late-night or overnight visits at many of its ports of call.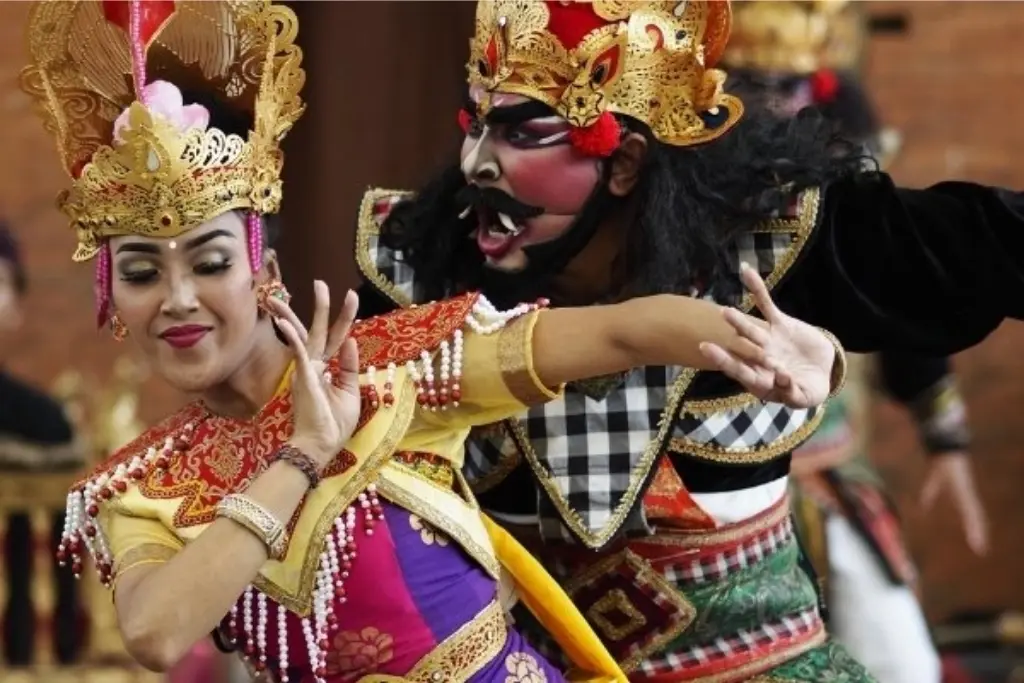 Dining on Azamara is notable for its Destination Immersion program, with cuisine inspired by the ports visited. The main dining rooms and casual dining eateries are complimentary, but there's a charge for specialty dining venues. Room service is also free.
Select standard spirits, international beers and wines as well as bottled water, soft drinks, specialty coffees, and teas are complimentary throughout the ship.
Gratuities are also included, with the exception of gratuities for spa services.
Other Azamara perks include free self-service laundry rooms, and a shuttle service between the port and local communities in select locations.
What really makes Azamara stand out in the ultra-premium category is their free AzAmazing Evenings event on most voyages. Azamara escorts passengers to a nighttime event once per cruise. The evenings feature local cultural activities and performances.
Check the lowest fares for Azamara Cruises here
Oceania Cruises

Founded in 2002 in Miami, Oceania Cruises is known for its longer-than-average sailings. The shortest cruises offered are seven days, with most in the 10-14 day range. Oceania offers a wide variety of ultra-long voyages, up to 200 days!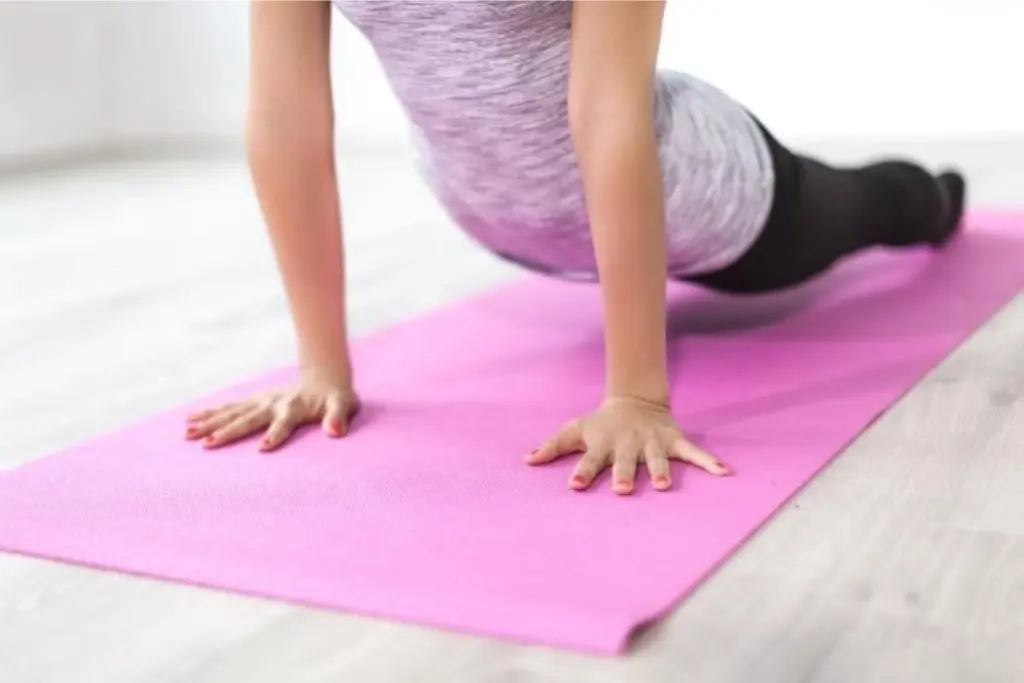 In addition to the main dining rooms, Oceania cruises offer complimentary specialty restaurants for all passengers. Jacques Pépin, the TV cooking show host and celebrated cookbook author, has been Oceania's Executive Culinary Director since 2003.
Complimentary room service is available 24 hours a day.
Oceania doesn't offer any complimentary alcoholic beverages. However, still and sparkling waters, soft drinks, specialty coffees, and teas are free for passengers.
WiFi is also free of charge on Oceania sailings.
Round-trip airfare is included in the cost of your fare, along with in-port shuttle service where available.
Oceania offers an extensive variety of complimentary fitness classes. Classes include sunrise stretch & relax, and yoga on deck. More intense programs are also available, including Boot Camp, full-body strength training, and core conditioning.
Check the lowest fares for Oceania Cruises here
Viking Ocean Cruises

Long known as a river cruise company, Swiss-based Viking launched Viking Ocean in 2015.
Viking Ocean features sailings in Northern Europe, the Baltics, North and South America, the Caribbean, the Mediterranean, Asia, Australia, and New Zealand. 
Much like with their river cruise division, Viking focuses on the culture of their destinations, so your time in port is often longer than average.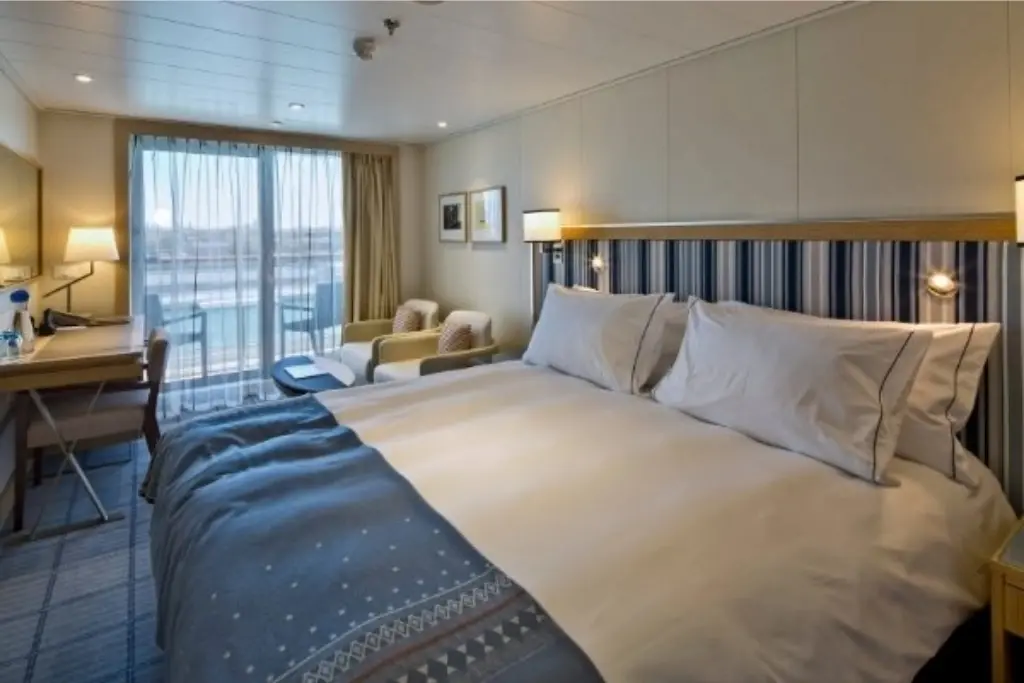 All of Viking Ocean's dining options are included in your cruise fare. Alternative restaurants, including the five-course Chef's Table experience, are free of charge. Room service is free and offered round-the-clock.
Viking offers complimentary house wines, beers, and soft drinks with lunch and dinner. Specialty coffees, assorted hot teas, and bottled water are always free.
All staterooms have a balcony. Viking Ocean's ships are set up so there are no inside staterooms. Complimentary in-room movies on demand are available, as well as free WiFi.
Complimentary self-service laundry rooms are also available to passengers.
Viking Ocean offers one complimentary shore excursion in each port.
Check the lowest fares for Viking Ocean cruises here
Luxury Cruise Lines
Luxury cruise lines focus on personalized service and all-inclusive upscale dining. Their smaller ships provide an even more intimate cruise experience than the ultra-premium cruise lines.
Prices can be significantly higher, but luxury cruise lines include far more amenities and services as part of your cruise fare.
Regent Seven Seas

Regent Seven Seas Cruises, based in Miami, Florida, specializes in smaller, more intimate ships with all-suite accommodations. RSSC's cruises visit over 300 ports worldwide.
All dining is complimentary on Regent Seven Seas, including their specialty restaurants. Complimentary 24-hour room service is also available.
In addition to a free welcome bottle of Champagne, RSSC offers free unlimited beverages including cocktails, wine, specialty coffees, teas, and hot chocolate.
Your steward replenishes your In-suite refrigerator daily with complimentary soft drinks, beer, and bottled water.
Pre-paid gratuities are complimentary for all passengers.
RSSC includes unlimited fitness classes at no charge. Classes include yoga, Pilates, and aerobics.
Free unlimited WiFi is available (one login per suite, one device at a time), and free movies-on-demand are also available.
Self-service laundry is free of charge, with detergent provided. 
Regent Seven Seas offers free unlimited shore excursions in each port. Passengers can participate in more than one shore excursion per day as long as scheduling permits.
Airfare to and from the embarkation and disembarkation cities is complimentary for all passengers. The cruise line offers free roundtrip Business Class airfare on intercontinental flights.
Regent Seven Seas offers free roundtrip Economy airfare for domestic flights from the U.S. and Canada. Complimentary ground transfers between the airport and your ship are also available.
Check the lowest fares for Regent Seven Seas Cruises here
Seabourn Cruise Line

Seabourn, an ultra-luxury cruise line based in Seattle, Washington, operates worldwide. Cruises range from short seven-day sailings in the Caribbean to around-the-world journeys featuring exotic ports of call.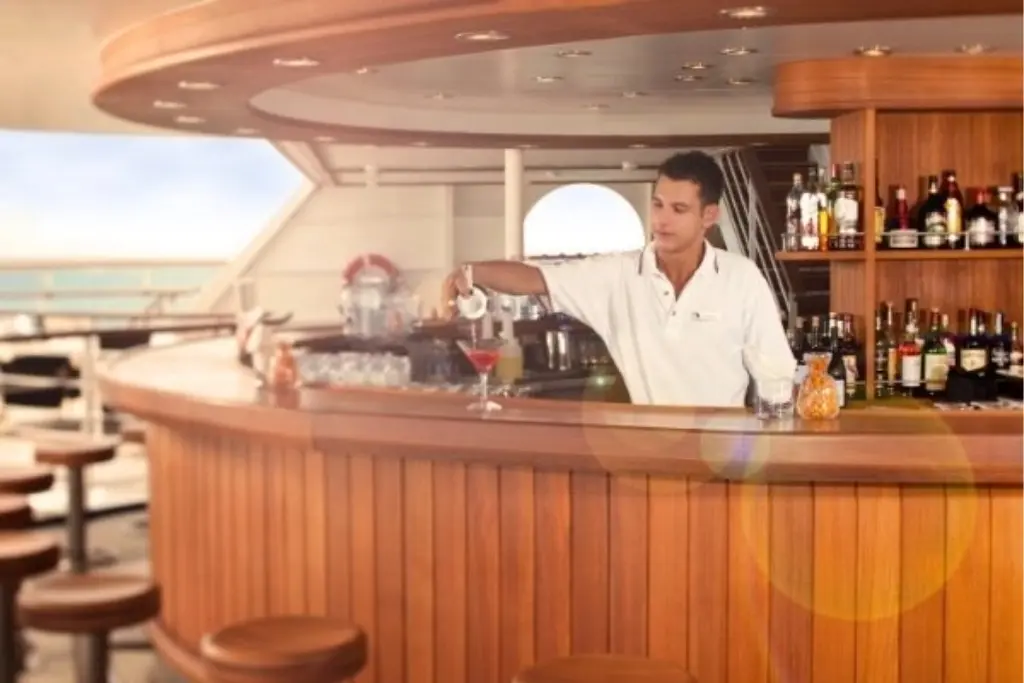 Seabourn's ships are all-suite, and every suite is oceanfront (offerings include balcony or ocean view). You'll be welcomed by complimentary Champagne upon arrival to your suite.
Each suite has a complimentary bar and refrigerator, stocked to your particular preference.
Dining at all restaurants is complimentary on Seabourn, and they have a partnership with Thomas Keller, the only American chef to have two three-starred Michelin restaurants.
If you choose to dine in the privacy of your suite, room service is complimentary.
To complement the world-class cuisine, premium wine and spirits are also included in all fares, both during meals and at open bars throughout the ship.
For those who need to work off all of the delicious food, fitness classes, including yoga and Pilates, are free of charge.
Tipping isn't required or expected at all on any Seabourn cruise.
A unique perk of Seabourn Cruises is their complimentary Massage Moments service on deck. Passengers lounging on the pool deck are treated to short massages by the ship's therapists.
Check the lowest fares for Seabourn cruises here
Silversea Cruises

An ultra-luxury cruise line, Silversea Cruises is headquartered in Monaco. Silversea has been a pioneer in all-inclusive cruises since the launch of its first ship, Silver Cloud, in 1994.
Sailing to over 900 ports throughout all seven continents, Silversea has the most diverse group of destinations of any cruise line.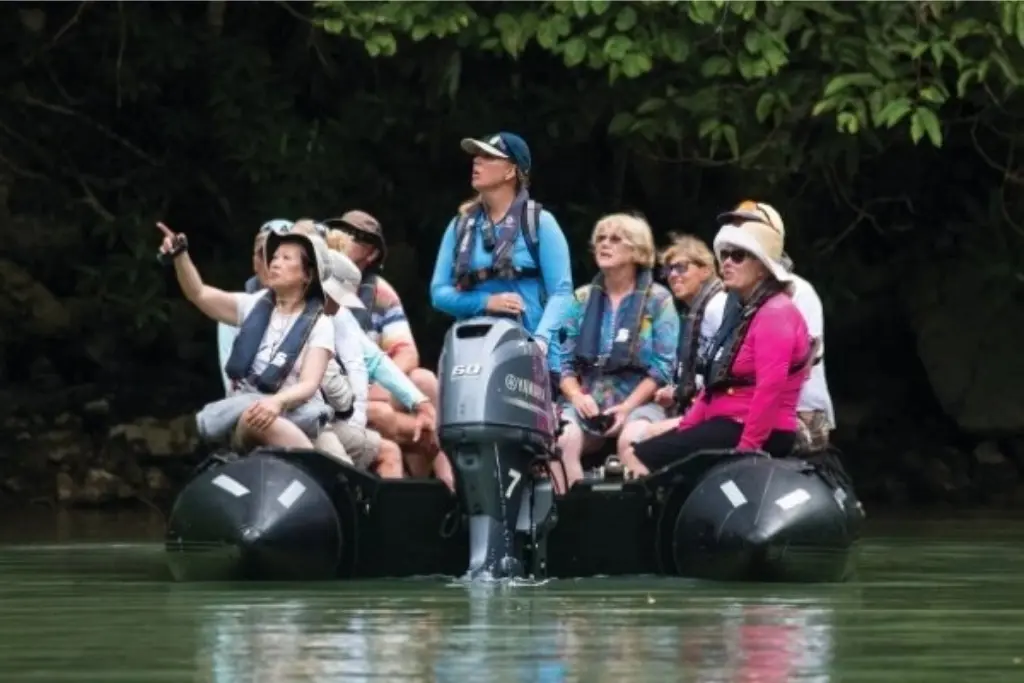 Silversea's ships are all-suite, most with balconies. All suites have complimentary butler service. You'll find your suite's mini-bar stocked with your preferred beverages, including wines and spirits.
Champagne is served as you're escorted to your suite. Gourmet dining is included in the main dining rooms, but there is a fee for specialty restaurants.
Wine and premium spirits are complimentary at meals as well as in all bars and lounges. Specialty coffees, bottled water, and soft drinks are also included with your cruise fare.
Silversea includes gratuities on all of their cruises, except at the beauty salon and spa.
On Silversea Expedition cruises, expedition activities are free. Expedition cruises, which visit locations inaccessible to most cruise ships, operate on purpose-built ships designed to navigate remote waters.
Read more: What Is an Expedition Cruise (and Why You Should Consider One)
Check the lowest fares for Silversea Cruises here
Which cruise line offers the most all-inclusive cruises?
After a careful study of the major ultra-premium and luxury cruise lines, I'm going with Regent Seven Seas as the most all-inclusive cruise line.
This luxury cruise line offers 11 out of the 12 possible included services and amenities—the most of any cruise line on the list. The only service RSSC doesn't include is a butler for every class of suite.
Have you ever cruised on an ultra-premium or luxury cruise line? Or are you considering all-inclusive cruises? Do you feel that the included services and amenities are worth the premium price? Let me know in the comments below!
---
Liked this post? Pin it for later!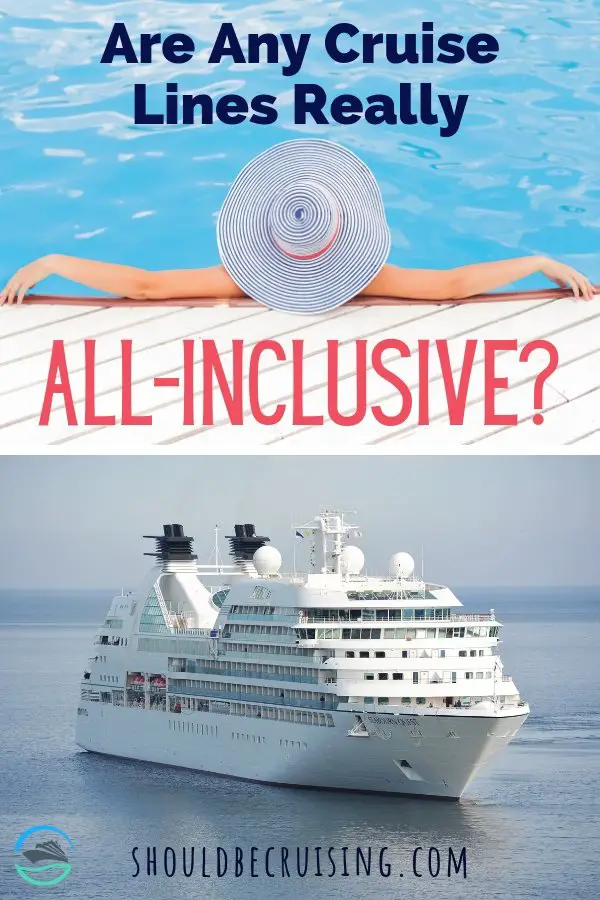 Latest posts by Carrie Ann
(see all)